Satellite Multiband Imaging System (KMSS)
Satellite Multiband Imaging System has been developed for imaging land and water surfaces from weather and remote sensing satellites.
The system includes several optoelectronic multiband imaging cameras (MSU) based on linear CCD and equipped with bandpass filters. each MSU provides for obtaining images in three bands of visible range.
The first onboard multiband imaging system including two MSU-100 and one MSU-50 provides for obtaining operative image data for conducting weather and ecological monitoring from onboard the "Meteor-M" #1 s/c.
Image data is received and processed at the research Center for Earth Operative Monitoring (NTs OMZ) (
http://www.ntsomz.ru
), Joint Stock Company "Russian Space Systems" and Scientific Research Center of Space Hydrometeorology "Planeta" (
http://planet.iitp.ru
) .
The cameras MSU-100M and MSU-50M have been developed for the next s/c of the "Meteor-M" series.
Main characteristics of MSU cameras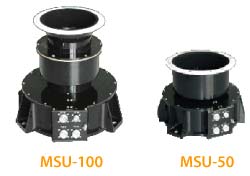 Parameter
MSU-50
MSU-100
Focal length, mm
50
100
Spectral bands, mkm
0.41
0.55
0.48
0.65
0.63
0.83
Number of elements in a row
7926
Size of CCD pixel, mkm
7 х 7
Field of view, grad
58,5
31,3
Pixel projection, m
116
58
Commands interface
MIL STD-1553B
Power consumption, W
7
Mass, kg
2.5
3.2